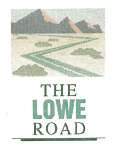 Quartzsite—Funny what people put in the spare bedroom. Take Buck and Maude Burdette, for example. They keep a radio station in theirs.

And it's not a ham radio operation, either. It's KBUX, the voice of Quartzsite (because it's the only radio station in Quartzsite). It's a two-person operation, which makes the programming at KBUX quite simple.

Put on some music, and go do something else.

The format is pretty much the same, day after day—music most of the time with brief interruptions for station identification and commercials. Very little time is devoted to commercials, however, because the station has only one regular advertiser during the summer and never more than 10 during the winter months.

But the Burdettes aren't in it for the money. They simply want to bring the type of music they like to their community. It's been that way since the station went on the air in the 1980s and there's not much chance it'll change. At least, not while the Burdettes are manning the mikes.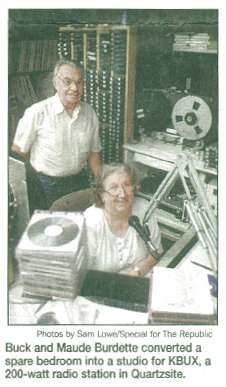 KBUX is a 200-watt station with a range of about 16 miles at 94.3 on the FM dial. Its primary listening area is Quartzsite and the huge chunks of desert that surround the town. The signal sometimes gets clear into California, but then California is only about 15 miles away. And because Quartzsite sits in a valley, few other radio signals find their way here, so the Burdettes have somewhat of a captive audience.

Because this is not cutting edge radio, costs are far less than those incurred by the megawatt stations. KBUX has the essentials—turntables, tape players, microphones, and CD players—but no high-priced disc-jockeys. The tower is a 70-foot-tall telephone pole sunk into 3 feet of caliche in a side yard, and the promotions department is a vintage green Volkswagen bug with a KBUX sign attached to the roof.

They don't know how many listeners they have for certain but, in the words of Maude Burdette, "pretty much everybody in town tunes in at one time or another". The payroll is minimal because the station has only two full-time employees—Buck and Maude. But it operates 24 hours a day, every day, except when there's an emergency.

The origins of this mom-and-pop operation go back to the late 1970s. She was widowed, he was divorced. neither had any desire to marry again but love took care of that and on Nov. 11, 1978, they went to a secluded spot in the desert and exchanged vows. In 1980, they found a two-bedroom house and bought it because, according to Maude Burdette, "Buck took one look at it and said, 'Wow! A place for my radio station!'" It was something he'd wanted to do for a long time because we couldn't get any stations here.

—KBUX continued